Functions Exercise wise Solution
 In mathematics, an expression, rule, or law that defines a relationship between one variable and another variable.
Functions for TS Inter maths 1A chapter 1, we learn about ordered pair, cartesian product of sets, relations, representation of a relation, function as a special kind of relation,Domain, Co-domain and Range of the function. One-One , Onto, Bijective, equal Constant Function.
Dirichlet: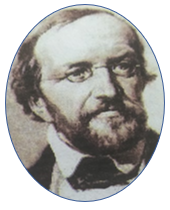 Johann Peter Gustav Lejeune Dirichlet was a German Mathematecian  credited with the modern formal defination of a function. He was a student of Guass. After Gauss's death in 1885, he was appointed as Gauss successor at Gottingen
Also Visit 
• Trig. Up to Transformations VSAQ's
---
Visit My YouTube Channel:  Click on below logo